Red Line Readings is in partnership with South Dublin Libraries' Red Line Book Festival. These programs were made with the support of the Broadcasting Authority of Ireland.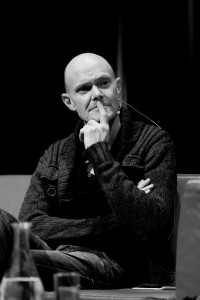 Seán Moncrieff is the author of three novels, Dublin, The History of Things and The Angel of the Streetlamps. Outside of fiction, he is well known for hosting his own popular daytime radio show, Moncrieff, on Newstalk 106-108 FM and for presenting numerous television shows such as The End, Good Grief Moncrieff, Black Box and Don't Feed the Gondolas.
Seán is also the author of God: A User's Guide. His first novel, 'Dublin', was published in 2001 by Doubleday and reached the Irish bestseller lists. This was followed by the nonfiction titles 'Stark Raving Rulers: twenty minor despots of the twenty-first century' (2004), 'God: a User's Guide' (2006) and a second novel 'The History of Things' (2007). Sean's latest novel, 'Angel of the Streetlamps', is published by New Island.
Photograph of Sean Moncrieff by Rob O'Connor